By Maris Naglis, VP of Customer Success, Httpool
There are currently just shy of 4 billion social media users across the globe. This is an astronomical number that amounts to almost half the world's population. This number alone represents the immense potential of advertising on social media — for big corporations and small businesses alike. The sky's the limit when almost half the world's population is at your fingertips.
That said, social media isn't only an opportunity — it's also a responsibility. And while social media enables you to reach 4 billion people, it also enables 4 billion people to reach you. This means one wrong move and you could have the fury of half the world right at your brand's doorstep.
We can't always influence or predict what will happen to our brand on social media, but there are steps we can take to build a robust and responsible marketing strategy that minimizes risk and helps us achieve our business goals:
Know your audience, prepare a detailed marketing strategy, and analyze your results for constant improvement;
Think local as you're going global (more on that later); and
Stay apprised of the ever-changing digital marketing trends.
Following these steps will allow you to unlock the true potential of social media marketing and simultaneously protect your brand from (most) public fiascos.
How to win (or lose) $4 billion overnight
The story of Lockheed Martin's F-35 aircraft illustrates the potential threats to companies that lose the good graces of the mighty ones on social media. After then-President Donald Trump tweeted about the F-35 program's costs, the Company's share price plummeted, resulting in a $4B loss of value.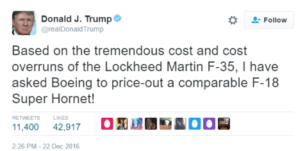 The good news is that it goes both ways — there are countless stories of social media triggering tremendous success overnight. For example, Clubhouse gained 10 million users in just over three months and closed a $4B funding round largely due to tweets from Elon Musk urging people, including Vladimir Putin, to join Clubhouse.
E-commerce: 10 years growth in 3 months
The COVID-19 pandemic and resulting universal lockdowns precipitated staggering growth in the US e-commerce sector. The industry "jumped 10 years forward in 90 days' time," according to the McKinsey Quarterly report.
With optimism now prevailing, marketers should proceed with caution because this type of growth is unsustainable for the long term — in fact, growth indicators are already falling. US e-commerce revenue growth topped 60% in both 2Q2020 and 1Q2021, yet fell to 3% in 2Q2021. The sector is still growing, so it's not all bad, but trends are changing by the day.
How to Go Global by Thinking Local
It may sound counterintuitive, but the first prerequisite for a successful global marketing strategy is knowing how to effectively respond to local market needs. Oftentimes, there are significant differences between regions and even among neighboring countries; generalizing could mean jeopardizing your entire marketing strategy.
For example, preferred payment methods vary widely from country to country. In one European country, "Buy now, pay later" (BNPL) is the #1 preferred payment method, while in another country, bank transfers or digital wallet payments prevail, and "Buy Now, Pay later" isn't even in the top 7.
Varying levels of social media penetration is another example of how culturally-adjacent countries from the same region can have dramatically different preferences.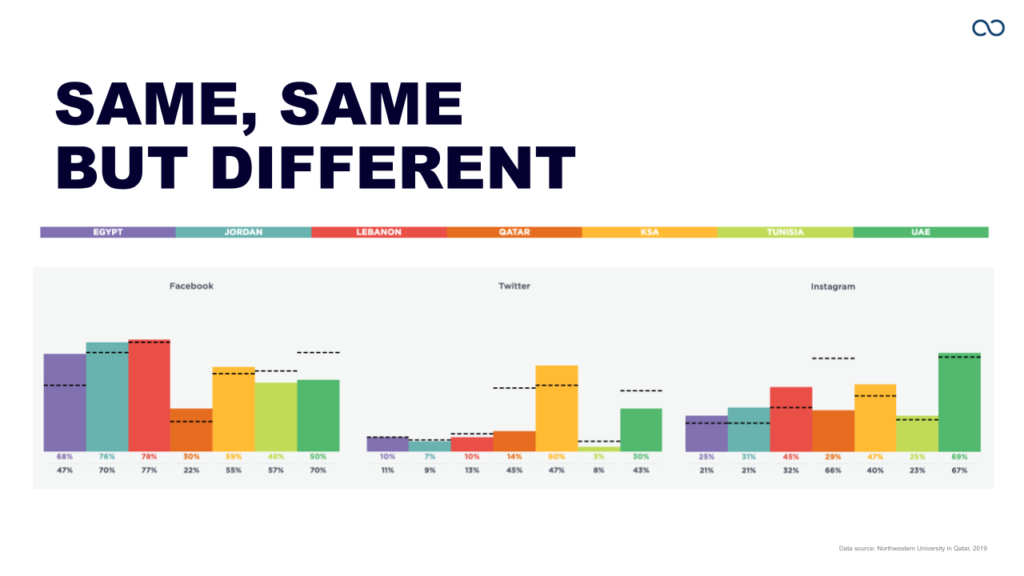 So, in short, don't assume or guesstimate. Research, plan, analyze, and test everything your brand does on social media and beyond.
Good luck on your global path!
As mentioned earlier, you have 4 billion reasons to have a strong brand presence on social media. But as the social media landscape becomes more dynamic and complex than ever before, your potential customers are spread across dozens of platforms, each with their own set of ever-evolving features and rapidly-changing trends. Staying on top of your performance marketing efforts requires a robust strategy that takes all industry innovations into account.
For deeper dives into performance marketing trends and topics, follow other posts from the GoGlobal conference speakers (coming up in the following days).
About the author
Maris Naglis has 22 years of general management experience (including Global brands and networks, such as – Dentsu, Kantar and Bonnier) for a range of marketing and sales disciplines – media research, advertising sales, agency relationships, eCommerce, digital marketing, and marketing technologies. As VP of Customer Success at Httpool, he leads a global team ready to accelerate global business growth, from anywhere to everywhere, whether it's a skyrocketing startup or a well-established agency holding, proposing the right solution and engaging with the right people to achieve your business goals.
For deeper insight into Maris' talk, watch the recording to hear it from the source.
We invite you to stay in the loop and follow GoGlobal's fast-paced marketing strategy sessions. Recordings of the event are available on our on-demand platform, including sessions delivered by performance marketers from SnapChat, Tiktok, Adweek, and more.